Industry 4.0 means exchange of data/information between machines for increasing the quality and efficiency of the production. This is only possible with standardised interfaces. With machines and processes becoming increasingly complex, existing hardware interfaces are now reaching their limits. This is why EUROMAP develops new interfaces on the basis of OPC Unified Architecture (OPC UA). This platform independent interoperability standard ensures the secure and reliable exchange of data in the field of industrial automation in a number of industries.
Two introduction videos are available on Youtube:
For more information about OPC UA as base technology visit https://opcfoundation.org.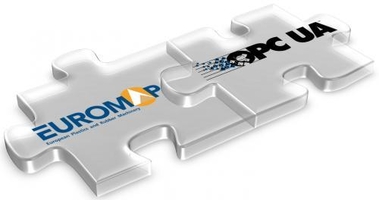 In 2019, EUROMAP and OPC Foundation have established the Joint Working Group "OPC UA Plastics and Rubber Machinery". Thus, all EUROMAP OPC Specification will also be published as OPC Companion Specifications by the OPC Foundation.
All members of EUROMAP, OPC Foundation and members of our international partner associations are welcomed to join the work. Just contact us:
Marc Schmitt

Phone: (+49 69) 6603 - 1182