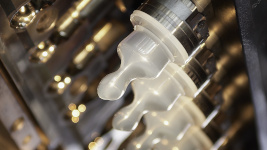 New parts of OPC 40082 published
01 June 2021
Standardised data exchange for hot runner devices and liquid silicone rubber dosing systems
What do pacifiers have to do with digitalisation? A great deal, if they are produced on an Industry 4.0-capable machine that is networked with its peripherals.
The Joint Working Group consisting of EUROMAP and the OPC Foundation has published two new parts of the OPC 40082 specification "OPC UA Interfaces for Plastics and Rubber Machinery - Peripheral Devices" as a release. "This concludes the work of two sub-working groups consisting of machine, equipment and control manufacturers as well as MES providers on standardising data exchange with hot runner equipment and liquid silicone rubber (LSR) dosing systems," says a pleased Dr Harald Weber from VDMA Plastics and Rubber Machinery, who chaired the working groups.
The two specifications define which data are to be exchanged via the open machine-to-machine communication technology OPC UA. This includes information for central monitoring of the device and process status, but also functionalities so that the connected injection moulding machine can directly influence process parameters. By specifying the technology (OPC UA) and the content in the specifications, the integration of machines and devices from different manufacturers in a production cell and embedding them in a higher-level system is considerably simplified. In addition to the one-off efficiency gains, networking also enables targeted control and monitoring of production during operation.
The specifications are available free of charge here.
Image source: ARBURG